Share this infographic on your site!
Some people call them the winter blues or the  winter blahs, and many people in North America get them at some point in their lives. A more severe form persists for two or more years  — what some people call winter depression or even "the screaming blue meanies" in extreme cases — often ends up being diagnosed as SAD, or Seasonal Affective Disorder, aka winter depression.

Seasonal Affective Disorder: The Numbers
Here are some general figures about SAD and depression.
1845 was the first year that symptoms of winter depression were recognized.
1980 is the first year that it was formally recognized as a disorder.
1 in 10 Americans were treated for depression in the years 2005-2008, according to the CDC. Depression appeared to affect women more than men, at a ratio of 2 to 1.
50% is roughly the rate of effectiveness in patients of antidepressants such as Prozac and Zoloft. These work by causing an increase in serotonin concentration in the brain.
Over 25% of American adults will be affected by depression at some point. The WHO (World Health Organization) says depression will take 2nd place in causes of disability worldwide.
The 3rd leading cause of death in 15-24 year olds is suicide from depression.
2 neurotransmitters, serotonin and dopamine, when their levels are reduced in the body, are thought to have a connection to depression.
95% of serotonin is produced in the gut. Low levels are thought to be associated with depression.
40M American adults 18 and older suffer from anxiety disorders, which include general depression and SAD (Seasonal Affective Disorder). That's 18% of the population.
~11M Americans suffer from SAD.
~1.4% of Florida residents have any form of winter depression, and as much as 9.7% of New Hampshire residents have some form of winter depression — based on 2007 epidemiological studies. With approximately 500K Americans being diagnosed yearly with SAD, the percentages may now be higher.
Nearly 50% of residents in northern USA and southern Canada are thought to have some form of winter depression. This may be due to sunrise taking longer in northern climes during the winter, compared to summertime.
$42B is spent yearly on anxiety disorders.
$148B is the yearly mental health bill.
It can take 8 weeks for antidepressants to bring relief to some patients, whereas light therapy can take as little as 1 week.
3 variables in light therapy include light intensity, duration and time of day exposure.
18-30 years is the primary age range of the onset of SAD symptoms, but it can happen at any age.
50-80% of SAD sufferers get complete relief from light therapy.
Oct/Nov is the typical time when SAD symptoms start showing, with relief usually coming in Mar/Apr. However, some SAD sufferers start showing symptoms as early as August; others do not start until January.
1 in 10 SAD sufferers go through a lesser form that occurs during summer months and is sometimes referred to as "reverse SAD" or "summer depression."
Some SAD Facts
According to a study published in March 2013, depression is the result of impaired communication between brain cells.
Common symptoms of SAD include fatigue, social withdrawal, oversleeping, carb cravings, weight gain. Lack of interest in regular activities may be another symptom. There are other symptoms, including decreased sexual interest, lethargy, feelings of hopelessness and suicidal thoughts. Most SAD sufferers have a combination of these symptoms — not necessarily all of them at once.
Common symptoms of reverse SAD/ summer depression include insomnia, agitation or anxiety, decreased appetite and weight loss.
SAD is sometimes misdiagnosed as hypothyroidism, hypoglycemia and other illnesses.
Serotonin (5-hydroxytryptamine, aka 5-HT) is found in a number of places in the body including the brain (pineal gland), blood platelets, digestive tract and central nervous system.
Gastrointestinal disorders may be associated with lowered levels of serotonin.
Some studies show that men have slightly more serotonin levels than women, which is thought to be negligible. However, serotonin reduction appears to males and females differently, with "alcoholism, ADHD and impulse control disorders" affecting more men, and "anxiety and mood disorders" affecting more women.
Dopamine is another neurotransmitter whose levels in our body have an effect on depression. With sufficient levels, we have positive feelings such as pleasure, attachment, altruism. With reduced levels, we may feel distracted, lack feelings of remorse, pleasure or love/ attachment.
Low serotonin levels cause cravings for carbs and dairy. This lack may bring on feelings of emptiness and fear. Sleeplessness may be an issue unless you also have a lack of dopamine.
Low dopamine levels cause cravings for stimulants (coffee, chocolate). Anxiety and trouble sleeping is less of a problem, but mornings may be difficult to get going.
Low serotonin levels can be genetic.
SAD is not necessarily dampened by moving to a warmer state.
Long periods of overcast weather can further affect those with SAD.
People in the Artic are potentially more susceptible to SAD than people in any other region.
17 Tips for Fighting SAD
The following tips are suggestions based on existing studies only, and not to be considered as medical advice. Please check with your healthcare providers before following any of these tips — especially those tips having to do with diet.
Wake early and take advantage of the daylight hours. Even people who do not suffer from SAD are occasionally bummed out by how dark it gets in early evening. If you work in a job where your natural light is diminished, take advantage of your work breaks and step outside for a few minutes — even if it's a cold day.
Invest in a special "sunbox" light that can help reduce depression. Light therapy has been effective for many sufferers of SAD. Some doctors recommend 30 minutes of light therapy in the morning – which can take place while doing other activities such as eating, reading, working. For some patients, as much as 90 minutes per day is recommended. An alternative is to try out one of the new cafes and bars opening up that have special lights installed. One such is Lightbar in Portland, Oregon, which open in June 2013.
Avoid regularly riding in vehicles with heavily tinted windows – at least during the day – to maximize your sunlight exposure.
Exercise. Regular exercise is believed to be an effective treatment for depression, as an alternative to antidepressants and psychotherapy. Certain forms of yoga may be effective in fighting depression. Clinical studies show serotonin levels rise after exercise, and exercise appears to be an effective anxiety treatment. Besides, physical activity sends adrenaline through your bloodstream — which some people will swear makes it impossible to feel depressed, at least during the activity and for a period afterwards.
Spend time outside — as much as you can. Walks in a park or through a forest can at least give you some fresh air, a bit of exercise, and some beautiful scenery to enjoy.
.Use light therapy. There are specially designed lights intended designed for this, but even any extra lighting may help in evenings and early mornings, when it's dark outside.
Get enough sleep. You hear this all the time, but scientific studies show a bidirectional connection between insomnia and depression. Be consistent with your sleep hours all week, and avoid using your bed for anything other than sleep and sex. Electronic distractions such as TV and mobile devices can affect your ability to fall asleep. If you wake up and can't sleep, trying reading in another room. Or try repeating in your mind some rhythmic words or mantra.
Eat foods that have dopamine: almonds, avocados, bananas, dairy, pumpkin and sesame seeds and more.
Eat fruits and vegetables high in antioxidants. Antioxidants protect dopamine levels from oxidation from free-radicals.
Eat foods that have tryptophan (an amino acid which helps in production of serotonin). This includes meat, poultry, dairy, nuts. Caveat: consuming foods with tryptophan can make you sleepy when eaten with carbs. This causes tryptophan to enter the brain instead of body, possibly resulting in a rise in serotonin levels.
Take vitamins for serotonin production rate (B6) and protecting dopamine levels (C, E), as well as Omega-3 supplements (or foods that contain Omega-3).
Avoid caffeine. Caffeine being a stimulant only temporarily raises serotonin levels. If you absolutely have to have caffeine, avoid it after lunch.
Avoid alcohol. It may make you sleepy but will not necessarily give you quality sleep.
Avoid foods that can interfere with brain function and reduce dopamine levels: refined foods and sugar, saturated fats, cholesterol.
Eat fresh. Invest in a mortar and pestle and grind your own fresh pastes (with ginger, garlic) to cook delicious meals with fresh veggies. If you can afford it, try organic meats — hormone free, and free of nitrites and nitrates.
Try going gluten- and wheat-free. This is an entire discussion on its own, although there is some evidence that GM (genetically modified) wheat causes a long list of ailments, including depression, in some people. In Dr. William Davis' book Wheat Belly, he indicates that as much as 80% of the world's population may be have gluten intolerance and not yet be aware.
Move closer to the equator. SAD tends to be rare in tropics. If you live at or above 30 degrees N latitude or below 30 degrees S latitude, you are more susceptible to SAD.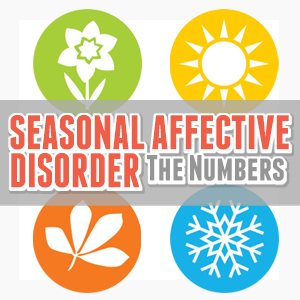 References
Information for this article was collected from the following pages and web sites: